Leave Your Restaurant Design Works to Master Hands!
Entrust your restaurant design works that require really good craftsmanship and design understanding to master handsNo matter how good your food is, if you don't have a concept, your chances of becoming a brand are low! You want to create your own unique style, you want your food to get the attention it deserves. Our primary advice is to be very meticulous in this regard.
Wood, even by itself, will give many meanings to the restaurant. It is a natural result that you will have a stylish and modern place thanks to Dekomika Design. We have skilled craftsmen who have served in the sector for years. In addition, thanks to our project experts, you will achieve the result you want. People will prefer you just because of the design! The rest is up to your skillful hands...
Restaurants and cafes come together to open cafe&restaurant concept spaces. Our cafe design works also "cafe design" page for more information.
How do I attract people to my place, how do I use my restaurant to its full potential? Call us for exclusive restaurant and fast food projects with different concepts and designs. Let us renovate your space from start to finish. We provide services in renovation, decoration and interior design.
I want to open a fast food shop, how to open a fast food shop? Be sure to call us to find answers to your questions like this.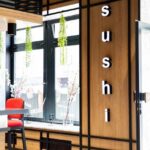 Among the beautiful restaurants specially designed for you, sushi restaurants are another beauty. You should definitely see the wonderful sushi restaurant designs that come out of the interaction of processed metal panels and wood. 
We provide restaurant design and installation services to every country in the world.
Follow our YouTube channel to watch the videos of our projects.