Grocery aisle; are exhibition stalls designed for your customers to buy vegetables and fruits. The more useful and high quality these machines are, the more positive the feedback from your customers will be. As Dekomika Design, we calculate all kinds of factors and factors while designing the grocery aisle. We also manufacture grocery stores.
We take everything into consideration when designing our grocery aisles. For example, we make special improvements for seasonal fruits. Thus, we aim to make the best use of the space you allocate to them . We make applications accordingly. In this way, customers can easily find what they are looking for and easily make their purchases. In addition, one of the ways to extend the life of fruits and vegetablesis to have a suitable aisle. That's why we pay attention to this when we design and apply. Thus, we produce solutions that will prolong the life of vegetables and prevent them from being crushed or rotting.

Are You Looking for a Company That Makes Grocery Counters?
We are the first company that comes to mind when it comes to the company that makes grocery counters. We are always a pioneer company in terms of design, design and application. Are you saying "I want to have a grocery store aisle"? Or do you want to "renovate the grocery department"? Then contact us. Let's make the most useful grocery store foryou at the most affordable prices.
Which Businesses Does Our Service Cover?
Our service includes all businesses that sell fruits and vegetables and have a grocery department. These are; manav, vegetable and fruit market, supermarket, hypermarket, small, medium and large market, gross market, discount. We design and implement grocery aisles for all businesses without separating any of them.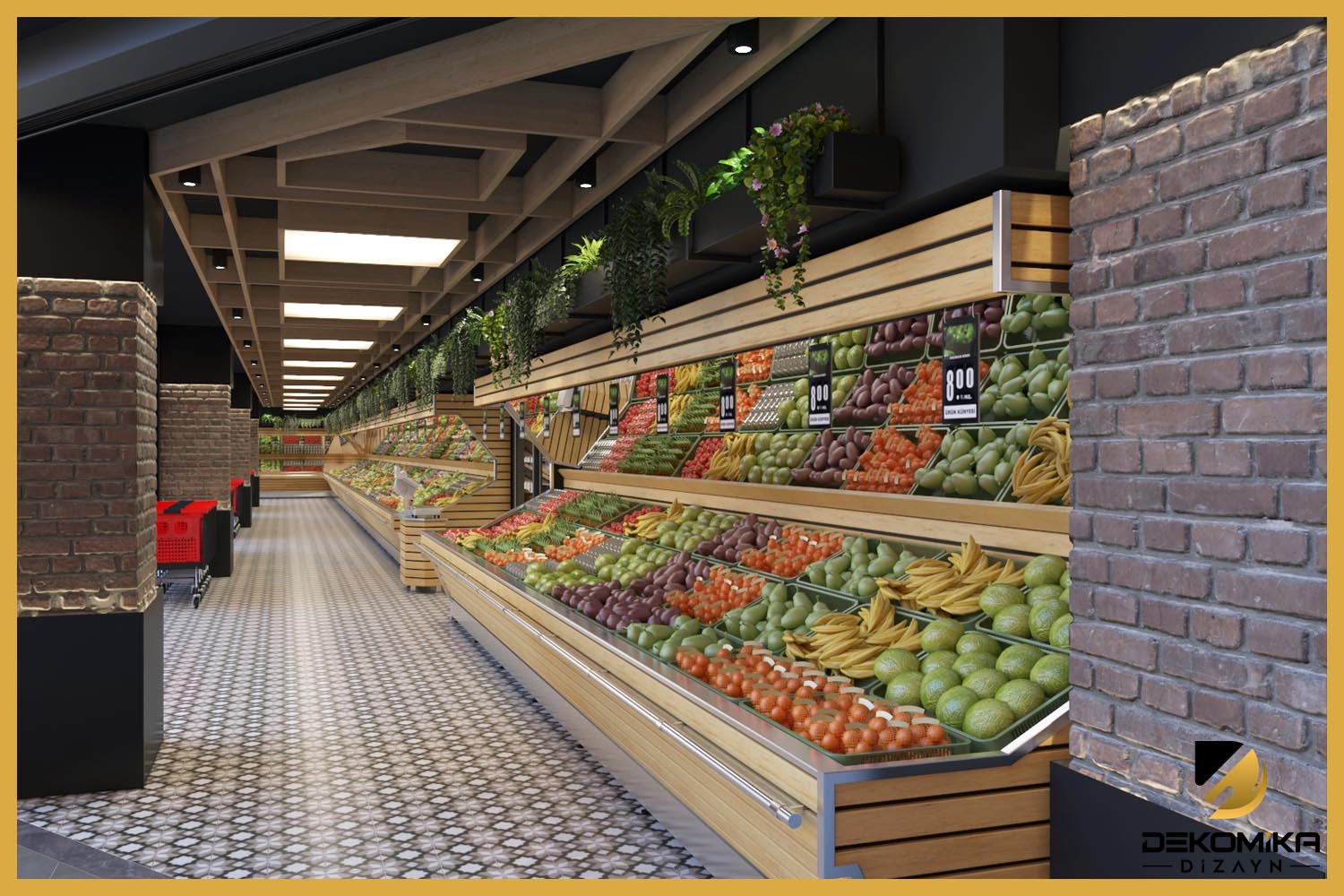 Grocery Section Dimensions
The section where the products are lined up in the grocery aisles starts from a height of 60 cm from the floor as standard. The above section of this section varies according to the type of section. For example, the height of the aisle of a grocery counter with a mirror usually ends at 210 cm. But depending on where the aisle will be placed, this height can of course vary. If you are going to use a grocery box in your aisle, the size of these crates is 40×60 cm as standard. Grocery crates in different sizes are also available. If you are going to use this 40×60 cm grocery safe, the depth and length of your aisle should be calculated according to these cases. In other words, this depth is determined by the upright or side position of the case and the slope of the place where the case is placed. For example, when the case is lined up next to each other, there should be no gap at the end of the aisle. Of course, it is also necessary to look at whether the grocery boxes are arranged vertically or horizontally. The angle of the slope in the aisle should also be calculated according to the angle of the mirror. As a result; Every detail in the grocery aisle has a purpose.
Types of Grocery Sections
Various models are available according to the place of use and purpose. You need to choose the right aisle according to your product variety and location. Some of the standard grocery store typesare as follows;
Mirrored – mirrorless
According to the number of cases (2 cases, 3 cases, etc.) 
By number of floors (single-storey, 2-storey, 3-storey, etc.) 
Middle and half grocery aisles
Around the colon
Cooled
We serve all of Turkey, especially to Istanbul. We also serve Germany, Belgium, Switzerland, France, Turkmenistan, Azerbaijan, Tunisia and many other parts of the world.
You can follow our YouTube channel and social media accounts to watch our work.
EXAMPLES OF MANAV SECTION