The Importance of Lighting in Cafe & Restaurant Design
To have knowledge in cafe and restaurant lighting
There is always an impression, a feeling that a café, bar, restaurant or a similar place you go to creates in you. For some, it is the sound of the music. Some of them are the sounds of plates and glasses coming from the kitchen, the smell of the food and the taste that suits your palate. Some of them are the service quality of a staff working there. All these can make you feel like going there again and feeling hungry. But did you know that lighting design is an important reason for most of these emotional feelings?
Places that are not sufficiently and correctly illuminated can adversely affect human psychology. Good lighting will also affect your mood and appetite. So, if you are designing places like cafes and restaurants, you should know more about the importance of lighting.
Lighting Suitable for Purpose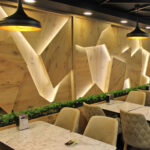 In addition to being complete about lighting, first of all, lighting should be suitable for its purpose. Is there a need for reflected lights from shiny surfaces to disturb the customer's eyes? Or a dim environment so dim that the customer cannot see the very stylish and specially prepared menu. It is a fact that a properly lit place is one of the factors that make customers spend longer time there. For this reason, the company you will have a cafe design should have sufficient knowledge and experience in lighting.
Different Spaces Different Lighting
It is very unlikely that two different places are identical. Even if everything is identical, the height of the ceiling, the size of the windows and the walls are not identical. The taste of the food and drinks served is one of the few details that make each restaurant unique. Therefore, you need to take these differences and details into account when preparing a lighting plan. How should your place feel? For example, simple and light-toned or warm and cosy.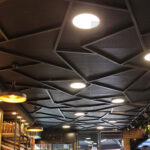 Targeted lighting is a smart way to use lights to illuminate a specific area or table. Targeted lighting is often used in all modern restaurant and café designs to provide points of light in a dimly lit environment.
There are different bulbs, different luminaires. Great lighting solutions are offered with decorative lamps designed to complement the design.
Natural lighting can often improve the ambient air. If space permits, you can let in more light with larger windows and glass doors. Retro glass pendants can be used accordingly. The elegant glass design will evenly distribute both natural and artificial light and will provide lower costs in electricity.
You have heard about the effect of colours on psychology. It is even known that certain colours stimulate appetite. For example, scientific research has shown that brown and red with golden lighting can make you feel hungry. Bright colours, whites and fluorescent, harsh light can make you eat faster and enjoy your food less.
You can call Dekomika Dizayn to get service about cafe design, cafe decoration. 
Our telephone number is +90 216 387 01 23. You can also visit our website for detailed information.